Thanks to Cara of "Oooh, books", for hosting this at Freeverse. Click on the link below for more.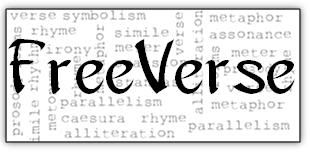 I love poetry forms, particularly those that have not been explored in contemporary free verse as much as, say, haiku. Here's a format known as "the jolene" in which the lines count words (not syllables), as follows:
There are Two Stanzas
First:
Three
Seven
Three
Seven
Five
Second:
Five
Five
Five
Five
Seven
Nine
A freeverse poem I wrote early this year in Jolene format, about the struggle within someone who is working for a manager who wants to change everything to mirror the way "they" like it.....
To Be Or Not To Be?
~ Jolene format
The windmills
Before me, they dare
Me, Come! Joust!
Better sensibilities
Left in the dust, cast
Aside for a ride
As Saint Joan you'll
Recognize me, or
Mistakenly think
Me a Spaniard out to
Conquer, when I desire - equity.
Sanity.
Respectful attitudes.
Compromise.
Communication that will
Include everyone.
Think carefully when
You order and pose
Demanding your way.
There can be someday
A means for your influence
To exceed a mere outcome. Lead us.