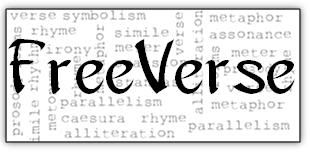 Thanks to Cara Powers (and Kelly for the lead) for creating FreeVerse to link to. Today I revive a form that vintage, that I really love; it is the triolet.
The Triolet ("triplet"), a French verse form, is a poem or a stanza of eight lines that include two rhymes and two refrains. One refrain is the repetition of the first line at the fourth line and the seventh line; this triple appearance of one line gives the Triolet its name.
My triolet today was written when I was anguishing over the happenings at Gitmo. Today, I think the same poem expresses my feelings as I watch the coverage of the devastation in Haiti, particularly since I heard a lot of insensitivity for their plight in my ordinary life today. How can people compare our level of suffering to theirs?
Here it is:
Fires of Outrage

Fires of outrage
Kindled in the shadow of apathy
Of those who stand idly by, watching as the world tips, then tumbles.
Fires of outrage
Self-inflicted despair dancing with irony
Cursing ourselves for seeking hope; a thing of the past.
Fires of outrage
Kindled in the shadow of apathy.